If you haven't already heard, nipples are making a comeback. I mean, we always had them but sometime after the late 90's we put them back in our bras and hid them from the world. Finally, we're embracing the hottest accessory we were born with! Fashion never lies, and fashion is telling us to flaunt what we got.
Trends die but they always come back, let's think back to Rachel on Friends or Samantha on Sex and the City…they were always stylin' and keeping up with the hottest looks.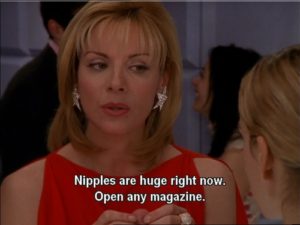 Now we're seeing Kendall Jenner and Bella Hadid exposing it all and looking hella trendy while doing it.
Those might even be the more extreme ends, there's totally a subtle way to rock this look, all you have do do is ditch the bra. A little peep through a t-shirt or tank is enough to let the world know you're doing it without it being so in-your-face.
If there is any part of you that is doubting what I'm saying, there is actually a company making stick-on nipples so you can still wear a bra and have "your" nipple show through. Justnipsforall.com has different variations of stick ons so you can "look cold and feel hot". SIGN ME UP. You can choose between two sizes; cold and freezing. I'm obsessed.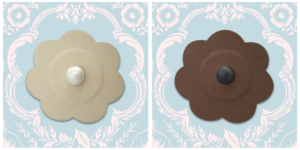 Really committed to the look? Piercings are more fashionable than ever! I used to cringe at the thought of it but the fun thing about piercings is that they're not permanent, if you really regret it or get sick of it you can just take it out and move on. Something to consider 😉
We're calling it, nipples are the summer trend you'll see models, celebrities, and pretty much everyone rocking this year!