"Oh hey, didn't see you there" – Me to my IBTs
So you're part of the itty bitty t*tty committee too? Welcome. This is a safe, judgement free zone. We are all in this together, and we will get through this. One A-cup at a time.
After many years spent wishing a second puberty would come my way, I've accepted my IBTs and all they have to offer – and what might that be? Well for starters I can forget they're there and carry on with day-to-day tasks – sans cupping.
**DISCLAIMER: there is no shaming here, we're all made perfectly and our different body types are all beautiful**
So maybe you want to treat your IBTs well and keep 'em covered in lots of cuteness, meet your new favourite bralette: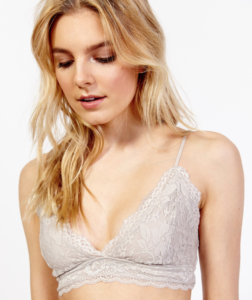 The Floral Lace Bralette from Urban Planet – only $11.99 plus you can order online and use your SPC Card for 10% off at checkout.
Your IBTs will thank you, so you can thank us 😉
Check out all the other items you can save major $$$ at through SPC SHOP!