"During the Fall and Winter months people who would normally rather be single or promiscuous find themselves along with the rest of the world desiring to be "Cuffed" or tied down by a serious relationship. The cold weather and prolonged indoor activity causes singles to become lonely and desperate to be cuffed." – Urban Dictionary
The entire "cuffing" concept makes a ton of sense to me BUT I would like to propose a season change. For many of us, the winter months are jam-packed with school work, exams, and holiday commitments. Who actually has time to focus on a serious relationship?
Spring/Summer seems like a much better alternative. Think about it, you have 4 months to yourself to enjoy and welcome new experiences. A serious relationship can thrive with the warmer weather which opens up tons of date ideas. Day trips to the beach, drinks or dinner on patios, hanging out by the pool – these can be so much fun with a boo by your side.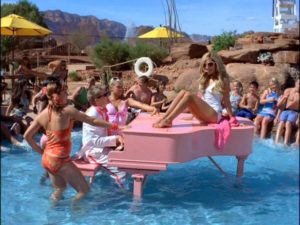 More free times means you can actually get to know someone…and their friends. YUP meet the friends, big steps but that's what cuffing is all about. Nobody makes a great first impression bundled up in -30 degree weather, you're grouchy and lowkey salty that you got dragged out of your warm home to hang out with a group of strangers. Trust me, I've been there. Summer puts everyone in the mood to meet new people and grow the friend circle.
When discussing your dating life you can't neglect the outfit options. Summertime date outfits > winter. You can get away with t-shirt dresses and sandals rather than having to put in a ton of effort to look cute without freezing your 🍑 off.
Overall, the Summer season is a way better time to get your cuff on so let's switch it up a little bit and just keep to ourselves in the winter.