Let's face it, 2016 sucked.
It seems like 2016 really wanted to go out with one last awful bang, sending Mercury back into retrograde for the fourth time this year. Yes, Mercury will be in retrograde for New Year's Eve. @TheUniverse really?????
It might be hard to see the light at the end of retrograde, but there are some ways to trick the system and get some positivity out of this celestial "disaster". All that mixing up with communication tends to turn all of our outward energy, inward – so let's take this time to focus on ourselves. New Year's resolutions are the perfect way to get through retrograde.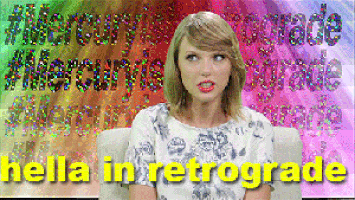 Resolution Tips and Tricks:
1. Consider what's really important to you
Take your time, think about what you really want out of 2017. Don't jump to resolutions that have no meaning to you, just to have resolutions. Is there something you want to accomplish that's bee sitting in the back of your mind? Take this time to plan it out.
2. Be honest
At a certain point, we have to be realistic and accept who we are. Your resolutions don't have to reflect who someone else wants to be, they're yours and they should be true to you.
3. Think outside the box
Your resolutions for 2017 can be a starting point for years to come, not everything needs to be accomplished in one year. Think about the bigger picture and use these resolutions as a piece in the puzzle.