I wanted to open my first blog post on #SPCContributor with a little hello!
I love high-waisted jeans with booties, and a chunky knit sweater. A peacoat, a big scarf, and a chic pair of boots. I enjoy wearing lots of colour, and grey…I LOVE greys. I love expressing myself through my clothes, makeup and hair. I recently started a Youtube channel and I'm thrilled to show you all my love for makeup, fashion, and doing fun things with my friends. I love bold brows, and soft natural eyes, and lips.
In today's edition I will be talking about this outfit: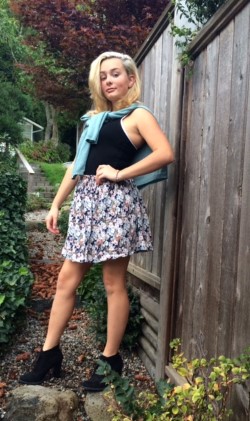 During Autumn, I love to mix the two seasons (while it's still a bit warm out) and bring together sweaters, and skirts. I LOVE sweaters. So when I can finally start wearing them I'm sooooo happy.
Today's sweater is a "new" one that I got from the local Sally Ann (I love thrift store shopping, but that's for another post), the brand is easyspirit, and it is a lovely soft cashmere, in a cool stone blue. I love the way it hangs, it is so comfy, and still super chic.
I'm in love with the cami I was wearing. It is a black v-neck cami from Forever 21. They're the best. The skirt is a beautiful floral with a navy background and is perfect for twirling. My booties are from Old Navy, they have a very clean, neat look to them. They're really cute, but I have to say, they aren't super comfy… which is unfortunate.
I always try to wear things to school that are appropriate, but don't stick to the trend that majority of the girls in my grade follow. They all tend to lean towards black leggings or jeans, sweat shirts (PINK quarter-zips, their volleyball ones, and other boxy styles), and some type of sneaker – mostly Nike, or Adidas Superstars. So I like to try out different styles, taking inpsiration from my favourite fashion bloggers (Eva Chen, Arielle Charnas, Zanita Whittington, and many, many others) and put my own spin on it.
This is going to be a small first blog post, as I'm just getting into this, and I hope you enjoy my post!
Till next time, Acey.
Follow me: