Fact: Many people believe that May 5 is Mexico's Independence Day, however the holiday actually commemorates the Mexican army's victory over France in the late 1800s!
Butttt celebrations in other areas of the world usually have a high emphasis on Mexican cuisine, culture and music. So if you're not too sure what to get up to, and have a smaller budget to work with – here are 3 ways to celebrate Cinco de Mayo with your friends (on a budget) 😉
1. Host a party that includes DIY decorations! Mini piñatas, anyone? Easiest way to do this is to check Pinterest for some creative ideas!
2. Head to Mucho Burrito with the gang. With options like Quesadillas, Burritos (available in 7 core fillings combined with fresh ingredients… yummm), and tacos, you'll never be out of options. From chicken, steak, shrimp and a vegetarian option – all your friends will be good to go (and so will your taste buds). PLUS – use your SPC Card to get FREE Chips and Salsa with the purchase of any entrée. Check the deal here! 
BUT IF YOU'RE REALLY IN THE MOOD TO CELEBRATE – Mucho Burrito is celebrating in the greatest way possible – On May 5th only, you're getting $5 Burritos (you heard that right) ALL DAY! You're welcome.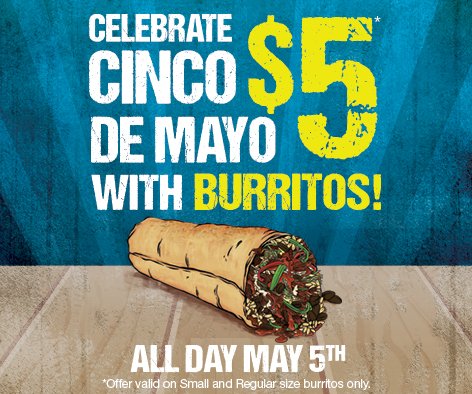 3. Try checking out a free parade or festival in your area! You get to experience the culture, have fun with a group of your friends, and not spend a dime. (But I mean, if you're hungry…  heading to Mucho Burrito after is probably the best idea).
So there you have it! 3 ways to have the MOST fun this Cinco de Mayo. Are you celebrating this year?