I did it. I finally put my winter jacket away for the season and admitted to myself that warm weather is coming.
I've been looking for a way to change up my wardrobe, transition from winter and also grab some new pieces that would go with anything. I'm a very predictable shopper, lots of blacks and monochromatic colours to make my outfits as versatile as possible. I know a lot of you are like this too, which is why I'm going to let you in on a little secret; I rebelled and went vintage and you can too!
Over the weekend I stopped at Garage – one of my favourite places to shop – and found a few new arrivals that I became completely obsessed with. Some were out of character for me and that's what I liked best, I'm taking risks with my wardrobe. Garage's new line is a 70s inspired masterpiece and here are a few of the pieces I picked up that were just rebelliously retro enough for me to take my style to a different level while still living in the realm of my comfort zone.
70's Fringed Crochet Vest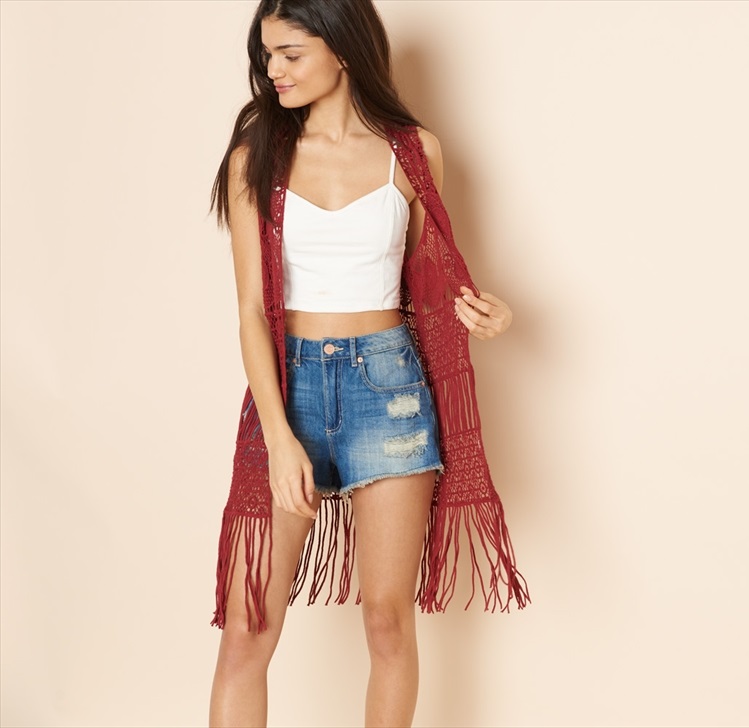 Umm can you say vestival season? Yes I said vestival. This vest is the cutest and can work over so many different outfits. Personally I liked how Garage styled it so much I bought the whole outfit to get the true retro look. Pass over some sunflowers so I can put them in my hair!
Embroidered Peasant Top
I love to wear jeans and jeggings so this peasant top is the perfect thing to style with either of those bottoms. Mix that with the fact that it's my favourite kind of flowy that hugs in all the right places and those cute tassles in the front, I'm in love!
Faux Suede T-Shirt Dress
Dresses are my fav thing to wear on a sunny day and this t-shirt dress is a perfect one to change from day to night. I plan on pairing it with a pair of sneakers during the day and some high-heeled booties at night, throw on a denim jacket on top and you have the perfect spring outfit! Who knew suede would make a comeback!
Side Slits Maxi Skirt
I'm a sucker for a good maxi skirt so when I saw this one I couldn't contain my happiness. Black (who can go wrong?) and slits on either side, it's cute to pair with a crop top or with a simple tucked-in tank. My favourite thing about this skirt is that I can wear any shoes and it'll still look cute. Told you, versatility is key for me.
Accessories
If I didn't already feel like a flower child with all my new stuff I definitely do now. Check out all of these cute accessories! I picked up a pressed flowers iPhone case, a silver anklet and some toe rings, and some vintage looking rings to complete the look!
I'm in love with all my new stuff and the best part about it all was that I got 10% off my purchase with my SPC Card!
PLUS right now Garage has an SPC MEMBER EXCLUSIVE! Enter now and you could win a $250 Garage shopping spree! Hurry, not only can you get some amazing new clothes for the warmer weather but you can enter for a chance to get even more stuff!