When I was 14, my cat died. He was the love of my life. And the only way I felt like I could put him to rest peacefully in my head was if I commemorated his life in the form of permanent ink near the crease of my inner elbow (is there a name for that?).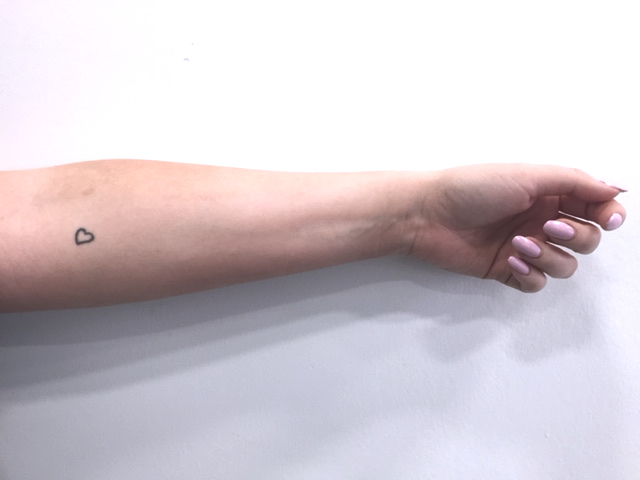 A bit over 10 years later, and I'm still in love with it.
Why?
Because at the time, I KNOW I wanted to get it. Badly enough that I'd sacrifice an area of my skin (tbh it's about the size of a dime) to permanent ink for the rest of my life.
But, a lot of people aren't so lucky. After prom, one girl I know got a tattoo that said "No Regrets" on the side of her foot.
Not too long after, the word "No" wore off. So, all she was left with was Regrets. And regret.
There are so many different ways you can think of tattoos; you can think of them as a form of expression, and a way to explore a different side of yourself that you feel proud being publicly displayed. Or, you can think of them as a way to honour a lost one (like in my case, my cat. RIP Kit).
Your mind can go either way – it's all about personal preference. But just to be safe, here are 4 things to think about when your wanting your first (or next) tattoo:
1) What does this tattoo mean to you? And if it doesn't necessarily mean anything (my sis has diamonds all down her arm – they're beautiful and are the perfect representation of her personality, but don't exactly have something concrete tied to their meaning), would you be okay living with that? If yes to either (or both), you're on your way. A great way to test this out, is to use permanent marker and draw your tattoo exactly where you want it. Live with it for at least 3 weeks. See how you feel.
2) I know this is an old-school way of thinking, but make sure to think about the career you're passionate about. It's slowly getting better, however there are still a few main professions that may not see a neck tattoo as being totally office-friendly (sad, I know). Many careers in the arts are WAY more lenient when it comes to openly visible tattoos – what makes sense for you?
3) Okay you may not like this one, but think of your parents/guardians. If you're under 18, the last thing you want to do is disappoint them (usually you need parental consent anyways). If a tattoo is something they're STRONGLY against, think of the pros and cons of getting one (and if it's really worth offending them right now) before heading under the needle. Yes, it's your body – but it's a good idea to think of all external factors and influences.
4) Don't think about it too much. You'll psych yourself out. If deep down a tattoo is something that you REALLY want, remember it that way. Remember that your 14 year old self was mourning that little guy that would snuggle with you every night, and to take him on your life journey in form of ink may be the loveliest thing you'll ever witness yourself do.
There you have it – do you have any tattoos? And how did you feel about them after you got them done? Comment down below!
PLUS – to celebrate the beauty that is tattoos, we're giving away passes to the Royal Ontario Museums #ROMInk tattoo exhibit! Live in the GTA? You can enter here.