When it comes to exams, we all know what it's like. And so does Tumblr. That's why we're storyboarding the perfect exam storm below.
1. First of all, it's best to note that having a strong support system that doesn't distract you is KEY.
2. But you also low-key wonder why your study room doesn't look like this. You'd never be distracted if your study room looked like this. Let's go on Pinterest and create our ideal study room.
3. Anyways… being realistic about what you're getting yourself into is a must.
4. But so is procrastination. It's called mental decompression and we all need it.
5. But like come on… WHO SAYS NO TO HARRY POTTER
6. Know what's almost as important as Harry Potter? An exit strategy.
7. But know what… sometimes the weirdest things happen at 2:45 AM. And you start to have an "AHA" moment.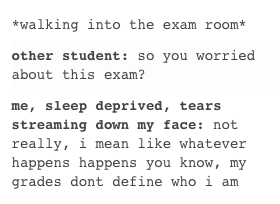 8. And you realize grades really ARE just a number
9. And that you're really all in this together
10. And that it will all be over soon.
GOOD LUCK TO ALL OF OUR SPC MEMBERS! THESE EXAMS WON'T KNOW WHAT HIT THEM.