So last week, I decided to go raw. No dairy, meat, processed foods, artificial sugar, or carbs. Yup – my daily meal now consists of fruit, raw veggies, and almonds. And 7 days in, I couldn't feel better.
But to say I felt this way at the start of last week is a major stretch; coming in to work and seeing my coworkers with their glorious home cooked meals that smelled like they came from heaven above made things extremely difficult.
So I sent out a company-wide email.
No no, not to complain; but to ask for help. I think it's easy to forget that the world works as a community, with sub-communities, and sub-sub communities… you get the idea. Why not reach out for support from the people I spend (more or less) 8 hours with every. Single. Day of the week.
My email consisted of one favour. Pick a day this month, and be my #SufferBuddy. You only have to pick one day, and during that one day you're volunteering yourself to eat raw WITH me. As buddies.
The response was incredible; so incredible that I've filled up a whole MONTH of #SufferBuddies. Some chose a day, some chose a 3 days, some chose a whole week. And now, we're accountable, and we're in this together.
No one at SPC NEEDS to do this. That's the best part of it; they're doing it to support me, and help me stay strong.
So that got me thinking; why can't #SufferBuddies work for every challenge in life; not just a new eating plan?
The #SufferBuddy system can literally apply to every new thing you're taking on alone, helping to keep you on track without imposing TOO much pain on your friends. There are 8765.81 hours in a year. And you're asking for 24 of those hours. That's .3 percent of their year. That's hardly suffering.
Taking on a summer school course? Ask your friend to be a #SufferBuddy and come to a class with you (if that's allowed). If not, ask if they'd come to the library, or even a coffee date while you study.
Trying to walk that 10,000 steps a day? Get a #SufferBuddy. Trying to stay off carbs? #SufferBuddy. You get the idea.
And what's great, is you may actually get someone thinking about changes THEY'd like to make in their lives. Just prepare to be a #SufferBuddy in return.
PS – For the last week of the month, I'll be juicing. I was actually afraid of the idea at first, and couldn't shake the feeling that compared to juicing, going raw is an actual luxury… UNTIL I noticed that Jugo Juice had a whole new menu of juices and smoothies out. I looked into buying a juicer, but for the amount of time I'm doing it (about a week) I don't know if it would make sense for me.
I tried one of their Fresh Pressed Juices last week – It was called Twisted Root (beet, apple, carrot, lemon, ginger) and I devoured the whole thing – it was DELICIOUS. I got my coworker The Big Beet, and she went out and bought another the next day. These juices are SO refreshing, and make you feel as great as they taste.
Last Thursday was SPC's VP of Sales & Marketing's #SufferBuddy day, and he even went out and bought himself the Kale Aid juice!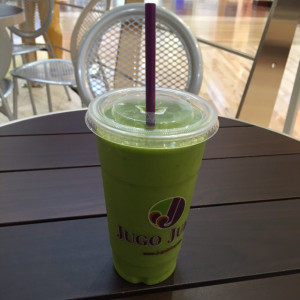 Looks like Jugo Juice and I are going to be very well acquainted by the end of this month; and I couldn't be happier about my new best friend. It also helps that I can use my SPC card to add in an Xtra Benefit whenever I'm going in for a smoothie!
3 more weeks to go. I was going to say wish me luck, but I may not need it with my #SufferBuddies by my side.