For today's post, we're focusing on a dreamy, ethereal style that will bring the romantic out in just about anyone! Whether it's a date at the park, or spending a couple of hours at your favourite hole in the wall tapas restaurant with your girls, check out three of our favourite looks from Forever 21:
Tile Print Romper: If you think you've outgrown the classic romper, think again! With its dainty, intricate tile print and swooning v-neckline, this romper would work perfectly for that day at the theme park, or picnic at your favourite park down the street. We're talking comfy AND practical (hello drawstring waist), with its slanted front pockets make it extra easy to chill in. Pair with wedges, Birkenstock slip-ons, or (for your inner child) sparkly gel sandals.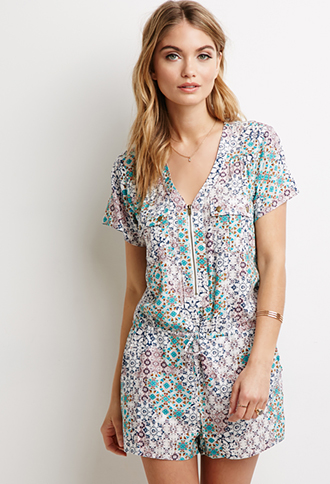 Lace-Paneled Knit Maxi Dress: Slightly vintage, yet totally feminine. You'll find yourself living in this maxi dress. Its loose knit construction will make all your summer activities feel like a breeze. Featuring floral lace panels down the front and back, our favourite part aboutthis dress is the dotted crochet patterned v-cut back. Make sure your shoe game is on point with this dress; its side slits make it that much more playful to show off thosee pretty gladiator sandals.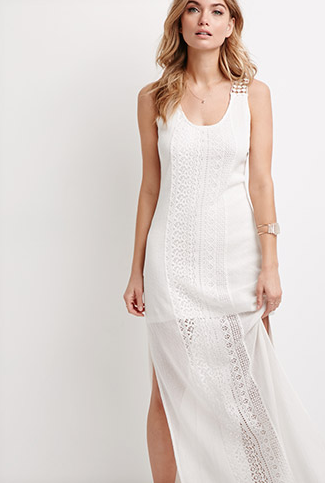 Classic Striped Shirt: That dreamy, fairy-tale look doesn't always have to entail flowy dresses and shear fabrics; this classic striped shirt has all the elements of a romantic feel with its loose silhouette and timeless striped pattern. Try pairing with a classic pair of light-wash jean shorts and some silver accessories to play off the grey. (P.S. Its long sleeves are great for layering or throwing over a cami).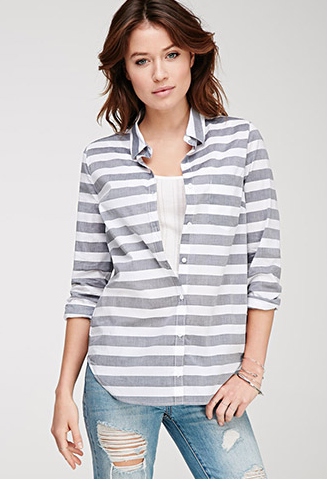 So there you have it! Three gorgeous romantical pieces to make you swoon over from Forever 21. Watch out for their summer new arrivals coming SOON, and don't forget to use your SPC Card to get 10% off your purchase whenever you shop at Forever 21 🙂