There's an app for anything and everything, but which one's are worth the GB storage? My iPhone is by my side at all times, and I've come to expect it to do everything for me, from telling me how much I've spent this week to playing my favourite song. Here's the thing, my phone can't do these things on its own…it need the latest and greatest apps, so here are my go-to's: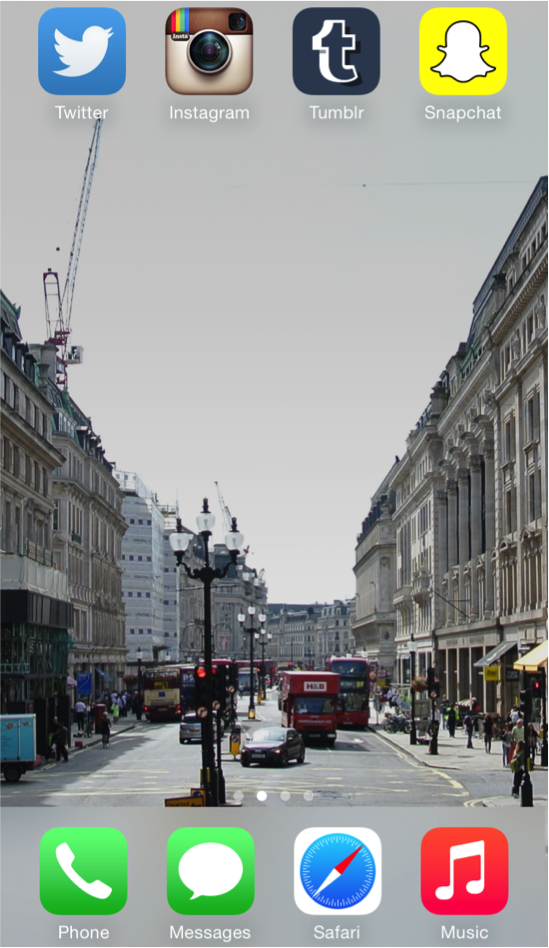 Twitter, Instagram, Tumblr and Snapchat get their own homescreen, since they're the ones I use the most. Between these 4, there's never enough monthly data…is that sad?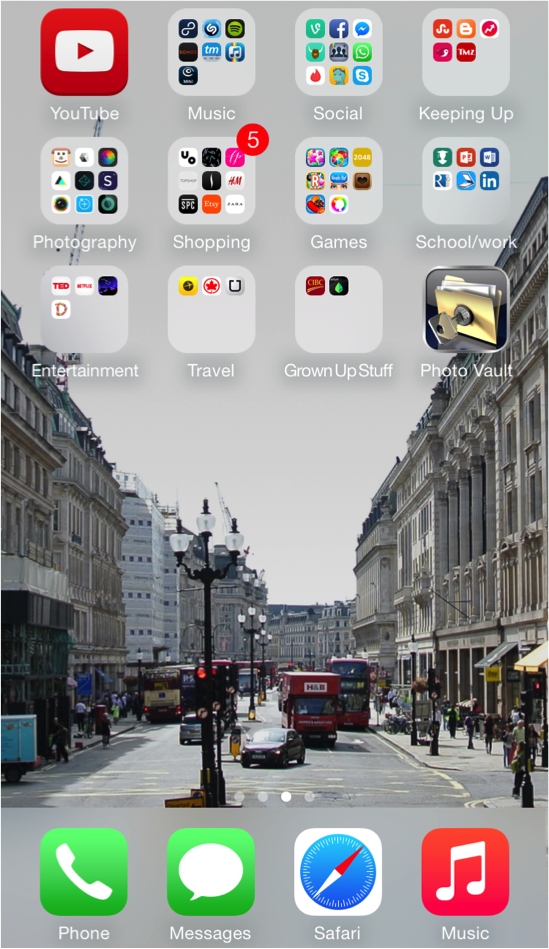 My next page is everything else. One of my biggest pet peeves is having pages and pages of apps that have no order or organization. The first thing I do when I download an app? Move it to the appropriate category: 
Music: These are apps for streaming, searching, and purchasing music. I also have my Ticketmaster app in there to easily purchase tickets for all my favourite artists concerts.
Social: This is where I keep anything that has to do with keeping in touch, and keeping up with people. Yes, this includes Tinder…Don't lie, you have it too.
Keeping Up: Pop culture is a pretty big part of my life, so keeping up with what's going on in that world is a must. TMZ, stumbleupon, and Buzzfeed help me do exactly that.
Photography: Photo editing, sharing, and capturing wouldn't be as enjoyable without the apps in this folder. There are thousands of apps but finding the right ones is so difficult, this is the folder that changes the most.
The next few categories pretty self explanatory. All my favourite retailers for online shopping, and of course the SPC app! Games, school and work organization, entertainment, travel, and grown up stuff (banking, budgeting…ew)
So which ones are my favourites?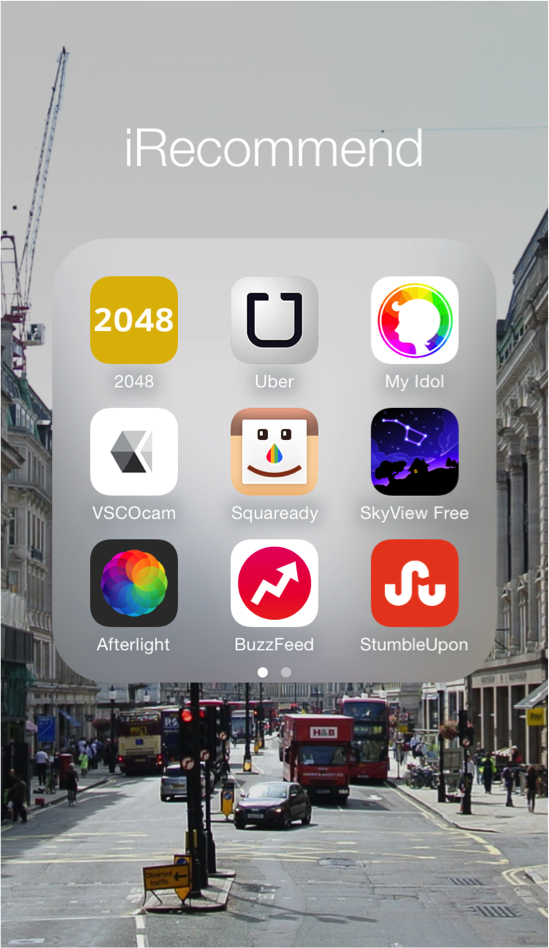 2048: If you're not already playing this highly addictive game, you should definitely start. It's my go-to game for commuting and killing time.
Uber: It's not always easy to catch a ride somewhere, but it is easy to call an Uber with the app. After downloading this you wont have to worry about how you're getting home from a night out.
My Idol: Have you seen those cartoon videos that basically took over Instagram. Everyone from Drake to me were messing around with cartoon versions of ourselves. Warning: There is absolutely no english in the entire app.
VSCOcam, Afterlight, Squareready: These are the Holy Trinity of photo editing. My Instagram aesthetic has been on fleek since I started using these. (Was that too conceited?)
SkyView: This app helps you find the constellations by simply pointing your phone to the sky. I love this app for summer nights. Grab your friends, a blanket, and your phone and have a chill night of stargazing.
BuzzFeed: Does this app really need explanation? Just think of their website in mobile form!
StumbleUpon: Procrastination station. Once you open this app expect to be on it for hours. After providing your interests and fav things this app will pull up pages from every corner of the internet that you will love, it's never ending and always entertaining.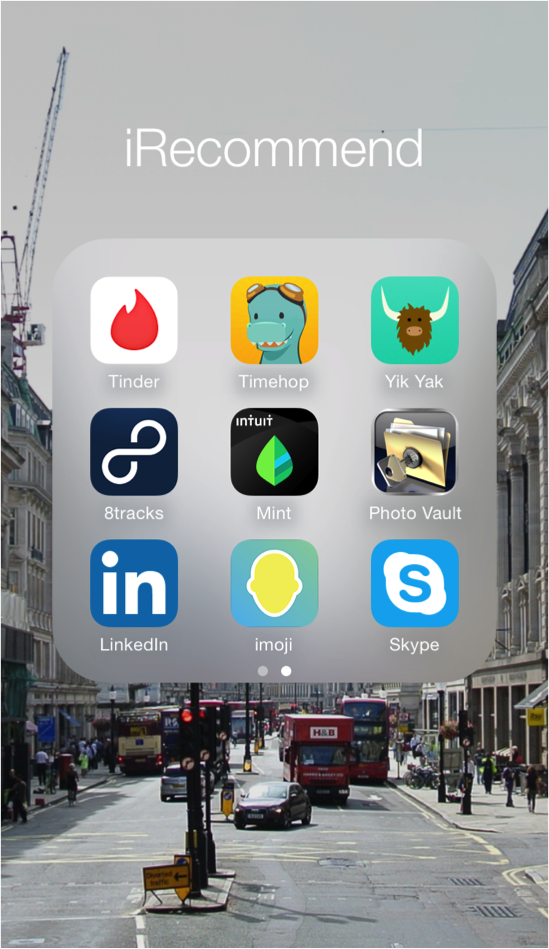 Tinder: Oh c'mon…you have it too.
TimeHop: Ever wonder what you were doing or thinking this time last year? Or two years ago? TimeHop shows you all your social media interactions from that day in previous years. Two years ago today I was really in the mood to watch Love Actually, but I had to finish an essay.
Yik Yak: You've probably seen screenshots from this app all over social media. People around you send in messages for everyone to see…they're usually hilarious (especially on university campuses) and a great way to have a laugh.
8Tracks: This is the perfect music streaming app. It's filled with user-made playlists for literally anything. Ever wondered what a "Friendship-Adventure"playlist would sound like? Check out 8Tracks.
Mint: Being a mature, organized adult isn't always easy buuuut with this app it can be! Mint helps you manage your transactions and stay within your budget…it even helps you manage your credit score. First year of university would've left my bank account a lot worse if it weren't for this app.
Photo Vault: We all have those pictures that we don't want anyone else to see…we don't need to go into detail (that alone just sparked your memory, didn't it?) Photo Vault is a password protected folder for all those photos so you never have to give an explanation again.
LinkedIn: Still don't have a summer job lined up? Download LinkedIn, set up a profile and start job hunting.
imoji: OK PREPARE FOR YOUR WORLD TO CHANGE. So you're texting your bestie and the standard emoji selection just doesn't have something to justify your expression, now you can turn yourself into an emoji. All you have to do is take a picture of yourself and crop it, the app formats it to be shared.
Skype: Nothing new here, perfect for if you go to school out of town or you're travelling this summer and want to see your loved ones faces.
Let us know if you already use any of these apps or if you download them and end up loving them as much as me!