A lot of you are just finishing up first year, and about to move in to your first apartment off campus! This is an exciting experience, and it's also a great time to showcase your individuality through home decor! Your walls are a reflection of yourself, even without any mirrors hung. The walls of your apartment tell a story; they make a statement about your personal taste, values, and your way of life. They celebrate all the things that are uniquely you, and most importantly, they're the hug that wraps around you during your precious hours at home. That being said, showing your walls some love in the art department is crucial to turning your apartment into your personal space, and tapestries have made it that much easier to do so.
From castles to condos, decorating with wall tapestries is not just a trend, it's a decor piece that has lasted through the centuries! Hanging one of these beauties on your shiny new apartment wall will expand your living space (emotionally AND visually), will automatically create a theme for your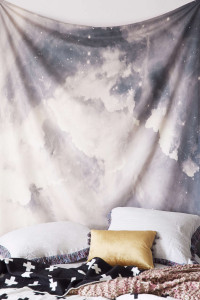 space, and will add that pop of colour to give your space the right amount of personality and charm.
Find the tapestry that best represents your style, and watch your new pad transform in front of your eyes. Look forward to a refreshing layer of beauty, warmth and charm; plus, it definitely acts as a conversation starter.
Style Tip: Working with a smaller room? Create the illusion of size with a larger tapestry; it will trick your mind into thinking the room is larger, since it's carrying such a large piece of art 😉
Horizontal tapestries will help add length to a room that's a little on the short side. If your room is on the larger side, scale it down a little by hanging a series of smaller tapestries together; this will help make a large blank wall look a little more interesting by piecing it apart.
PS – Pin and hang your necklaces on your tapestry to make it just as useful as it is beautiful! Shop these gorgeous tapestries (and SO many more!) at Urban Outfitters, and get 10% off when you use your SPC Card 🙂